---
Top Hat at University of Louisiana - Lafayette
University of Louisiana - Lafayette has an official partnership with Top Hat as the university's centrally supported active learning technology. 
Top Hat's active learning technology helps professors engage students before, during and after class. Top Hat helps you engage students in and out of the classroom through cutting-edge polling software, low-cost interactive content, flexible homework systems, and secure test-taking solutions. Top Hat also offers instructional design services to prep courses, train and work one-on-one with instructors to ensure they're fully ready to use Top Hat for the first day of class and beyond.
---
Benefits of Using Top Hat
Assess your students using advanced question types
Deliver interactive lectures
Administer assignments, quizzes and exams in a single unified platform
Track student progress and attendance in the Top Hat gradebook
Receive industry-leading support for professors and students
Sync grades directly to Moodle
---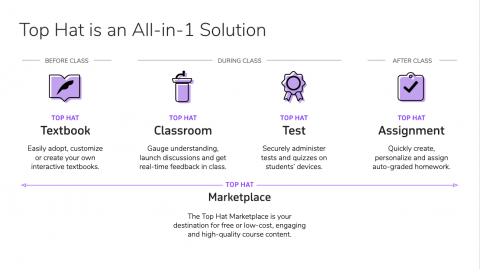 ---
Special Top Hat Pricing For University of Louisiana - Lafayette Students
4 months: $22.00
1-year: $32.00
4-years: $66.00
*The subscription applies to the full Top Hat platform including Classroom, Assignment and Test. Low-cost textbooks and free resources are also available to use with the platform.
---
Getting Started with Top Hat
---
For Faculty
If you need help signing up, contact Mary Rychlik at:
mary.rychlik@tophatmonocle.com

Instructors can also find resources and how-to's in the Top Hat Success Center.

Information for faculty:
Creating your professor account and courses
Inviting your students to your course
Accessing your course roster from the LMS
---
For Students
Visit our student's webpage at https://tophat.com/students/ for more information.

If you need assistance with your Top Hat account or subscription please contact Top Hat's support team directly at support@tophat.com or call 1-888-663-5491.

Information for students:
Create an account with Top Hat
Purchase a Top Hat subscription
Review the Student Quick Start Guide
---
Top Hat
When you adopt Top Hat, you get access to our full platform including:
Classroom
Assignment
Test
PLUS low and no-cost textbooks from Top Hat's Marketplace
In addition you also get access to Top Hat's gradebook to record and track student responses across in-class questions and discussions, homework assignments, tests and quizzes.
Read below for more information on each aspect of the Top Hat platform.
---
Classroom
Top Hat Classroom allows you to:
Leverage students' devices in class to increase participation
Upload your slides easily and embed interactive questions
Automate attendance, participation tracking and grading
Involve every student in live discussions
Gauge student comprehension through real-time feedback
---
Assignment
Top Hat Assignment, allows you to:
Easily create, assign, and customize auto-graded homework
Provide additional support to students by personalizing homework questions with hints and feedback
Provide students low-stakes learning options by assigning ungraded homework via Review mode
---
Test
Top Hat Test allows you to:
Securely administer quizzes, tests and exams in a bring-your-own-device (BYOD) environment
Prevent cheating through behavioral algorithms that monitor student activity patterns
Review real-time proctor reports
Auto-grade exams in seconds, with results made available in your gradebook
---
Textbook
You also have the option to adopt and customize one of Top Hat's free or low-cost interactive textbooks and course materials. Check out the Top Hat Marketplace to choose one that aligns with your course objectives or create own of your own.
Top Hat Textbook allows you to:
Easily adopt and customize high quality and interactive textbooks and course materials
Embed questions and assessments to gauge student comprehension
Keep information relevant and up-to-date
Make education more affordable for your students with a free or low-cost solution
---
Gradebook
Top Hat Gradebook allows you to:
View all in-class questions and discussions, assignments, tests and attendance records in one holistic view
Quickly search for individual student results
Edit grades with keyboard commands
Easily derive insights and trends related to student performance and adjust lesson plans accordingly
Export grades instantaneously into an external spreadsheet or sync with Moodle
---
If you have any questions please contact Top Hat's support team directly at support@tophat.com or call 1-888-663-5491.
---